When I joined Blizzard Activision King, they asked me to answer few questions to give a quick intro about myself, emailed to IT. I think is short (for my standards) and nice.
Welcome to IT, Carles Mateo!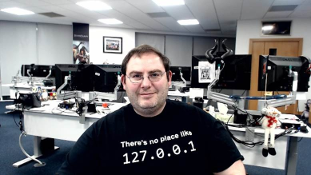 Please join me in welcoming Carles Mateo as Operations Engineer within OpsCenter GNOC Team.
Below a few words from Carles for proper introduction.
Where did you work previously?
I've worked for Sanmina in Cork as Cloud Architect, previously I've helped several CSP and ISP, and worked for Volkswagen IT, Winterthur (Axa) insurance IT, BBVA bank in IT, helped several Start-ups to Scale out and I had my own Start up and CSP where I had everything virtualized with VMWare.
What kind of work did you do?
In Sanmina first I did some difficult tasks with our own Linux distro (build root based) and OpenStack, and then I invented and I created a commercial Storage Manager based in ZFS and DRAID, to get back to Full Redundancy very quickly after losing drives, for our 4Ux90 and 4Ux60 14TB HDD Servers and for our 2U All-Flash-Array SSD/NVMe with 2x100Gbps Network Cards.
Before, I was helping companies with public Cloud solutions and Start-ups to scale.
What kind of work have you done in the past?
Hands on, leading teams or as sole contributor, from creating Software from the scratch in Python, Java, C, Bash, PHP, Assembler… to operate proprietary systems Sun/Solaris, Oracle, Microsoft, Documentum and of course Linux and Open Source, my preferred, to rebuild RAID in a server when a drive or 2 breaks or replacing a motherboard in the Datacenter at 3AM, being Architect or automating sanitization for ETL and business intelligence and KPIs, fixing bugs and bottlenecks working in the middle of Dev and Ops…
Ah! When I was 17 y.o. I was in charge of the IT, Novel Network, and the counter-espionage services of a Private Investigator Agency. And yes, I have many anecdotes ;)
Personal Life
Where are you from or where did you grow up?
I'm Catalan, from Barcelona that's why I have 2 surnames, one from the father and one from the mother. I did grow up in Sants st., they say is the longest commercial street in Europe.
When I came to Ireland, my colleagues asked me "You live in Barcelona, in front of the beach, why the heck did you come to Cork???" and I just smiled and said "I come to make history". :)
Family. Brothers, Sisters, Mom and Dad. Spouse? Kids?
My father died when I was very young.
I live alone in Cork, I'm single, and I don't have kids.
Interests
Hobbies: Computers, specially programming. Martial Arts. Painting figurines. Dancing and Karaoke, I may be terrible singing at it, but is really fun. Travelling. Gastronomy.
Favorite Food: My favourite food is the steak, that I cook with caramelized onion and melted cheese and a point of honey and raspberry jam aside, and the omelette with Irish mushrooms, melted cheese, and ham. If you fancy I uploaded pictures here: https://blog.carlesmateo.com/food-i-love/
Favourite Games: My favourite game is Star Craft 2. I enjoyed a lot many to remember, but come to my mind: Dead Rising 4, Assassin's Creed Syndycate, Zombie Army Trilogy, Halo… and oldies: Dune 2, Warcraft, Diablo series, Command and Conquer, Total War, Age of Empires, Doom, the original Dead Rising for Xbox, Street Fighter, Defenders of the crowd, Mortal Combat, Zelda, Mario Bross. I love Sekiro and I'm still playing it but is crazily difficult.
I've created a new section in my blog so you can see all of them with the score I give to them: https://blog.carlesmateo.com/videogames-i-played/
Favourite Movies: The princess bride. The last dragon. Perfect Weapon. Johnnie Mnemonic. Sleepless in Seattle. You've got an email. No retreat, no surrender. The immortals. Elder's game. Prometheus (Alien). Predator. Zombie Land 1 and 2. Star Wars. Star Trek. Sharknados. Animation: Robotech. Dragon Ball. Akira. Shin Chan. Dr Slump. Harlock. Mazinger Z. Saint Seiya.
I added a new section to my blog where I will be adding the movies I watch and my score: https://blog.carlesmateo.com/movies-i-saw/
Favourite Music, Band: I like almost all the music, so I mention 3 I like and if you want more, you go to this page I created in my blog. "Tard" from Els Pets, Catalan Band. "Common People", Pulp. "Don't Marry Her" The beautiful South https://blog.carlesmateo.com/music-i-love
Favourite Places Travelled: I love Silicon Valley, CA. My favourite city in Europe was Edinburgh, Scotland, until I discovered Cork, Ireland. Switzerland is very beautiful too. Girona, in Catalonia, is gorgeous with the river crossing the city like in Cork. I don't like big cities.
Dreams / Aspirations: When I was young, I played Warcraft, and later Starcraft, in LAN and over Internet with my cousin… and now I'm using my skills to save the world every day, in GNOC, with an amazing team of Engineers and we make the players happy. I'm living my dream!.
More Dreams and Magic: https://blog.carlesmateo.com/dreams-aspirations/
Interesting Fact about yourself: I code since I was 5 years old (MSX). At 10 I won my first Pc in a contest, being the best among all students my age in Spain. Since, I have assembled all my computers from the scratch. I created the first messenger in 1996, much before yahoo, Microsoft, skype…