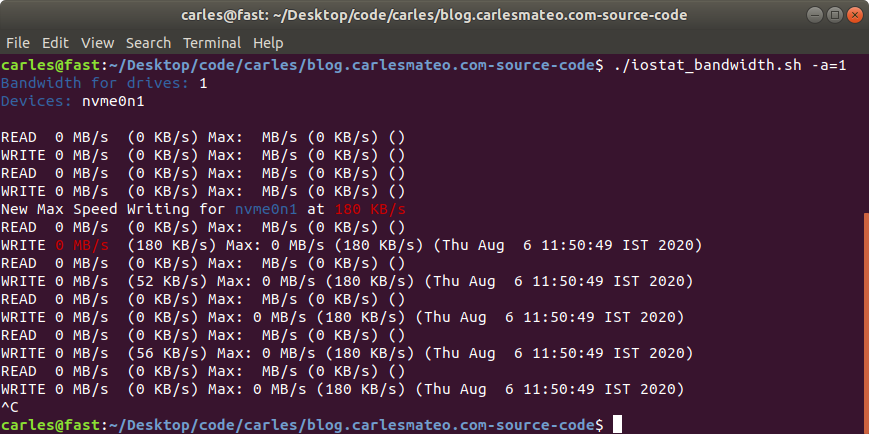 This is a shell script I made long time ago and I use it to monitor in real time what's the total or individual bandwidth and maximum bandwidth achieved, for READ and WRITE, of Hard drives and NMVe devices.
It uses iostat to capture the metrics, and then processes the maximum values, the combined speed of all the drives… has also an interesting feature to let out the booting device. That's very handy for Rack Servers where you boot from an SSD card or and SD, and you want to monitor the speed of the other (SAS probably) devices.
I used it to monitor the total bandwidth achieved by our 4U60 and 4U90 Servers, the All-Flash-Arrays 2U and the NVMe 1U units in Sanmina and the real throughput of IOC (Input Output Controllers).
I used also to compare what was the real data written to ZFS and mdraid RAID systems, and to disks and the combined speed with different pool configurations, as well as the efficiency of iSCSI and NFS from clients to the Servers.
You can specify how many times the information will be printed, whether you want to keep the max speed of each device per separate, and specify a drive to exclude. Normally it will be the boot drive.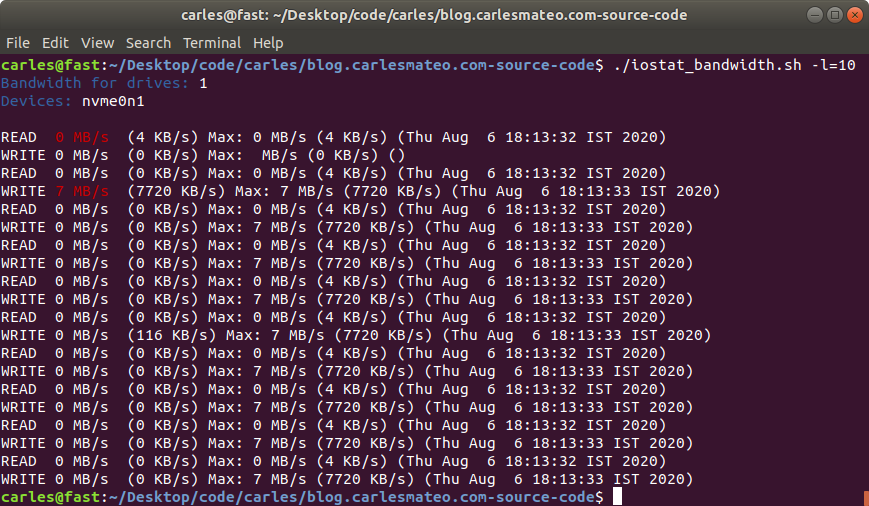 If you want to test performance metrics you should make sure that other programs are not running or using the swap, to prevent bias. You should disable the boot drive if it doesn't form part of your tests (like in the 4U60 with an SSD boot drive in a card, and 60 hard drive bays SAS or SATA).
You may find useful tools like iotop.
You can find the code here, and in my gitlab repo:
https://gitlab.com/carles.mateo/blog.carlesmateo.com-source-code/-/blob/master/iostat_bandwidth.sh
#!/usr/bin/env bash

AUTHOR="Carles Mateo"
VERSION="1.4"

# Changelog
# 1.4
# Added support for NVMe drives
# 1.3
# Fixed Decimals in KB count that were causing errors
# 1.2
# Added new parameter to output per drive stats
# Counting is performed in KB

# Leave boot device empty if you want to add its activity to the results
# Specially thinking about booting SD card or SSD devices versus SAS drives bandwidth calculation.
# Otherwise use i.e.: s_BOOT_DEVICE="sdcv"
s_BOOT_DEVICE=""
# If this value is positive the loop will be kept n times
# If is negative ie: -1 it will loop forever
i_LOOP_TIMES=-1
# Display all drives separatedly
i_ALL_SEPARATEDLY=0
# Display in KB or MB
s_DISPLAY_UNIT="M"

# Init variables
i_READ_MAX=0
i_WRITE_MAX=0
s_READ_MAX_DATE=""
s_WRITE_MAX_DATE=""
i_IOSTAT_READ_KB=0
i_IOSTAT_WRITE_KB=0

# Internal variables
i_NUMBER_OF_DRIVES=0
s_LIST_OF_DRIVES=""
i_UNKNOWN_OPTION=0

# So if you run in screen you see colors :)
export TERM=xterm

# ANSI colors
s_COLOR_RED='\033[0;31m'
s_COLOR_BLUE='\033[0;34m'
s_COLOR_NONE='\033[0m'

for i in "$@"
do
    case $i in
        -b=*|--boot_device=*)
        s_BOOT_DEVICE="${i#*=}"
        shift # past argument=value
        ;;
        -l=*|--loop_times=*)
        i_LOOP_TIMES="${i#*=}"
        shift # past argument=value
        ;;
        -a=*|--all_separatedly=*)
        i_ALL_SEPARATEDLY="${i#*=}"
        shift # past argument=value
        ;;
        *)
        # unknown option
        i_UNKNOWN_OPTION=1
        ;;
    esac
done

if [[ "${i_UNKNOWN_OPTION}" -eq 1 ]]; then
    echo -e "${s_COLOR_RED}Unknown option${s_COLOR_NONE}"
    echo "Use: [-b|--boot_device=sda -l|--loop_times=-1 -a|--all-separatedly=1]"
    exit 1
fi

if [ -z "${s_BOOT_DEVICE}" ]; then
    i_NUMBER_OF_DRIVES=`iostat -d -m | grep "sd\|nvm" | wc --lines`
    s_LIST_OF_DRIVES=`iostat -d -m | grep "sd\|nvm" | awk '{printf $1" ";}'`
else
    echo -e "${s_COLOR_BLUE}Excluding Boot Device:${s_COLOR_NONE} ${s_BOOT_DEVICE}"
    # Add an space after the name of the device to prevent something like booting with sda leaving out drives like sdaa sdab sdac...
    i_NUMBER_OF_DRIVES=`iostat -d -m | grep "sd\|nvm" | grep -v "${s_BOOT_DEVICE} " | wc --lines`
    s_LIST_OF_DRIVES=`iostat -d -m | grep "sd\|nvm" | grep -v "${s_BOOT_DEVICE} " | awk '{printf $1" ";}'`
fi

AR_DRIVES=(${s_LIST_OF_DRIVES})
i_COUNTER_LOOP=0
for s_DRIVE in ${AR_DRIVES};
do
    AR_DRIVES_VALUES_AVG[i_COUNTER_LOOP]=0
    AR_DRIVES_VALUES_READ_MAX[i_COUNTER_LOOP]=0
    AR_DRIVES_VALUES_WRITE_MAX[i_COUNTER_LOOP]=0
    i_COUNTER_LOOP=$((i_COUNTER_LOOP+1))
done


echo -e "${s_COLOR_BLUE}Bandwidth for drives:${s_COLOR_NONE} ${i_NUMBER_OF_DRIVES}"
echo -e "${s_COLOR_BLUE}Devices:${s_COLOR_NONE} ${s_LIST_OF_DRIVES}"
echo ""

while [ "${i_LOOP_TIMES}" -lt 0 ] || [ "${i_LOOP_TIMES}" -gt 0 ] ;
do
    s_READ_PRE_COLOR=""
    s_READ_POS_COLOR=""
    s_WRITE_PRE_COLOR=""
    s_WRITE_POS_COLOR=""
    # In MB
    # s_IOSTAT_OUTPUT_ALL_DRIVES=`iostat -d -m -y 1 1 | grep "sd\|nvm"`
    # In KB
    s_IOSTAT_OUTPUT_ALL_DRIVES=`iostat -d -y 1 1 | grep "sd\|nvm"`
    if [ -z "${s_BOOT_DEVICE}" ]; then
        s_IOSTAT_OUTPUT=`printf "${s_IOSTAT_OUTPUT_ALL_DRIVES}" | awk '{sum_read += $3} {sum_write += $4} END {printf sum_read"|"sum_write"\n"}'`
    else
        # Add an space after the name of the device to prevent something like booting with sda leaving out drives like sdaa sdab sdac...
        s_IOSTAT_OUTPUT=`printf "${s_IOSTAT_OUTPUT_ALL_DRIVES}" | grep -v "${s_BOOT_DEVICE} " | awk '{sum_read += $3} {sum_write += $4} END {printf sum_read"|"sum_write"\n"}'`
    fi

    if [ "${i_ALL_SEPARATEDLY}" -eq 1 ]; then
        i_COUNTER_LOOP=0
        for s_DRIVE in ${AR_DRIVES};
        do
            s_IOSTAT_DRIVE=`printf "${s_IOSTAT_OUTPUT_ALL_DRIVES}" | grep $s_DRIVE | head --lines=1 | awk '{sum_read += $3} {sum_write += $4} END {printf sum_read"|"sum_write"\n"}'`
            i_IOSTAT_READ_KB=`printf "%s" "${s_IOSTAT_DRIVE}" | awk -F '|' '{print $1;}'`
            i_IOSTAT_WRITE_KB=`printf "%s" "${s_IOSTAT_DRIVE}" | awk -F '|' '{print $2;}'`
            if [ "${i_IOSTAT_READ_KB%.*}" -gt ${AR_DRIVES_VALUES_READ_MAX[i_COUNTER_LOOP]%.*} ]; then
                AR_DRIVES_VALUES_READ_MAX[i_COUNTER_LOOP]=${i_IOSTAT_READ_KB}
                echo -e "New Max Speed Reading for ${s_COLOR_BLUE}$s_DRIVE${s_COLOR_NONE} at ${s_COLOR_RED}${i_IOSTAT_READ_KB} KB/s${s_COLOR_NONE}"
            echo
            fi
            if [ "${i_IOSTAT_WRITE_KB%.*}" -gt ${AR_DRIVES_VALUES_WRITE_MAX[i_COUNTER_LOOP]%.*} ]; then
                AR_DRIVES_VALUES_WRITE_MAX[i_COUNTER_LOOP]=${i_IOSTAT_WRITE_KB}
                echo -e "New Max Speed Writing for ${s_COLOR_BLUE}$s_DRIVE${s_COLOR_NONE} at ${s_COLOR_RED}${i_IOSTAT_WRITE_KB} KB/s${s_COLOR_NONE}"
            fi

            i_COUNTER_LOOP=$((i_COUNTER_LOOP+1))
        done
    fi

    i_IOSTAT_READ_KB=`printf "%s" "${s_IOSTAT_OUTPUT}" | awk -F '|' '{print $1;}'`
    i_IOSTAT_WRITE_KB=`printf "%s" "${s_IOSTAT_OUTPUT}" | awk -F '|' '{print $2;}'`

    # CAST to Integer
    if [ "${i_IOSTAT_READ_KB%.*}" -gt ${i_READ_MAX%.*} ]; then
        i_READ_MAX=${i_IOSTAT_READ_KB%.*}
        s_READ_PRE_COLOR="${s_COLOR_RED}"
        s_READ_POS_COLOR="${s_COLOR_NONE}"
        s_READ_MAX_DATE=`date`
        i_READ_MAX_MB=$((i_READ_MAX/1024))
    fi
    # CAST to Integer
    if [ "${i_IOSTAT_WRITE_KB%.*}" -gt ${i_WRITE_MAX%.*} ]; then
        i_WRITE_MAX=${i_IOSTAT_WRITE_KB%.*}
        s_WRITE_PRE_COLOR="${s_COLOR_RED}"
        s_WRITE_POS_COLOR="${s_COLOR_NONE}"
        s_WRITE_MAX_DATE=`date`
        i_WRITE_MAX_MB=$((i_WRITE_MAX/1024))
    fi

    if [ "${s_DISPLAY_UNIT}" == "M" ]; then
        # Get MB
        i_IOSTAT_READ_UNIT=${i_IOSTAT_READ_KB%.*}
        i_IOSTAT_WRITE_UNIT=${i_IOSTAT_WRITE_KB%.*}
        i_IOSTAT_READ_UNIT=$((i_IOSTAT_READ_UNIT/1024))
        i_IOSTAT_WRITE_UNIT=$((i_IOSTAT_WRITE_UNIT/1024))
    fi

    # When a MAX is detected it will be displayed in RED
    echo -e "READ  ${s_READ_PRE_COLOR}${i_IOSTAT_READ_UNIT} MB/s ${s_READ_POS_COLOR} (${i_IOSTAT_READ_KB} KB/s) Max: ${i_READ_MAX_MB} MB/s (${i_READ_MAX} KB/s) (${s_READ_MAX_DATE})"
    echo -e "WRITE ${s_WRITE_PRE_COLOR}${i_IOSTAT_WRITE_UNIT} MB/s ${s_WRITE_POS_COLOR} (${i_IOSTAT_WRITE_KB} KB/s) Max: ${i_WRITE_MAX_MB} MB/s (${i_WRITE_MAX} KB/s) (${s_WRITE_MAX_DATE})"
    if [ "$i_LOOP_TIMES" -gt 0 ]; then
        i_LOOP_TIMES=$((i_LOOP_TIMES-1))
    fi
done