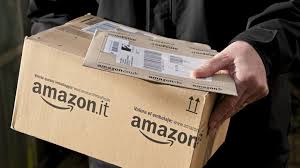 I was using a lot Amazon. Sending parcels to my previous job offices, and now to Blizzard offices, so I subscribed to Amazon Prime. With COVID-19 virus we were sent to do Remote Work, and now with the lock down basically I'm 99.99% of the time at home.
I did a test to see how it works sending to home during the pandemic.
I choose two different items, I reviews the order, they were going to be delivered separately, one day of distance.
I choose two items that will fit in my mailbox, separated or together. One USB3 3mts male female and a Blu-ray movie.
My surprise comes when I go to the mailbox one day before and I see that I have a paper from an-post telling that they pass by to deliver my parcel, and they did not leave because it doesn't fit the mailbox and they did not want to leave it a common space. For my surprise both Amazon parcels were grouped and sent before time. Maybe in a bigger box. But the mailman did not ring my door.
The paper tells me to get my parcel in the middle of the city, during the lock down. No way! I'm not going to risk my health and specially from elders, just to grab a cable and a movie.
I had the chance to request re-delivery to an Post, so I do. I fill all the info, I inform my phone number, email, I indicate which door to ring, and two days after as promised… a paper from an Post!.
They did not even rang my bell again.
I go to Amazon to cancel the order, but the process is only created for if you got the items.
Fuck it. I'm not going to order anything else to Amazon until that COVID-19 passes.
I don't know if the postman just avoids people for fear to contagion or the process of an Post is awful and he didn't get any information. But I'll not buy anything even if I cannot buy in other places cause the lock down.
I was going to maintain my Amazon Prime subscription, even if I know that I'll not use it much with the lock down, but makes no sense. Also:
I use Netflix and my Raspberry Pi 4, I was not using Amazon Prime Video.
I use Spotify, I was not using Amazon Prime Music.
I like to read in paper, not in eBook, so I was not using the eReader options.
A nice way to loss a customer.