Nice articles recommended
This article talks about how at Riot Games they use Slack. Slack is really a powerful tool, and also makes the communication more human in companies with their approach and the funny icons and /giphy. I'm very serious when it comes to work but I recognize the friendly, warm, human and lovely touch these kind of animated icons bring to the conversations.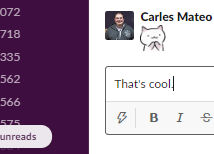 Remember that life of the SSD is different from spinning drives. I recommend to keep your backups on external spinning drives disconnected most of the time.
Operating at Scale – An Inside Look at Facebook's Production Engineering Team
CMIPS
I've been working on testing performance of more configurations on Azure and GCP.
I'm also looking forward to test the AMD Ryzen™ 7 3700X, AM4, Zen 2, 8 Core, 16 Thread, 3.6GHz, 4.4GHz Turbo that is arriving to me this week.

CTOP.py v. 0.7.8 released
I closed the ticket #21 (Thank Jian!) so ensuring CTOP.py is compatible with Python 3.5 versions.
Feature requests and bugs are listed using gitlab: https://gitlab.com/carles.mateo/ctop/-/issues
My Python Combat Guide Book
I updated it the Nov-01, as I normally do, bringing more content.
I've been paid the royalties for he past two months and I reinvested everything (and more from my pocket) in Hardware for working with ZFS.
I was offered by an editorial in The States to publish Python Combat Guide and other of my books worldwide. I was thinking it for a while. It was very good money, translation to multiple languages and platforms and marketing and a lot of promotion, but I would had loss the rights and the Freedom I have now, like the possibility to offer discount coupons to who I want and to update the contents often. So to celebrate my decision for you, readers of the blog, during September, I provide a discounted price of $5 USD for the fist 100 sales instead of the $25 USD suggested price. Use the following link:
https://leanpub.com/pythoncombatguide/c/blog-carles-nov2020
ZFS progress
As part of my effort to contributing with nice Open Source products to the Community I have made some investments to keep contributing to:
OpenZFS
My old tool for managing ZFS and Network shares easily
I'm writing a new book about managing ZFS for Small Business too, so I show how to operate on this hardware, good points and downsides.
I'm assembling a new Pc with ZFS plenty of Disk Storage within a mix of:
SAS Enterprise grade SSD 2.5″
SATA 12Gb Enterprise grade SSD 2.5″
SATA SSD 2.5″
SATA HDD 2TB 2.5″
SATA HDD 2TB 3.5″
I'm a big fan of Intel, but this time I have chosen AMD. Concretely a AMD Ryzen 7 3700X AM4 8 Core / 16 Threads, 3.6 GHz to 4.4 GHz with Turbo. The reason I chose this CPU is because it only uses 65W but still has 8 Cores / 16 Threads.
Also I want to see the performance of this AMD Ryzen with CMIPS and another important reason is that AMD motherboards support PCI 4.0. I have bought a NVMe SSD Samsung 980 PRO PCI 4.0 (x4) able to read at 6,400 MB/s. I will use this AMD box for running VMs as well. Basically Virtual Box and Docker.
I've been surprised that for 169.99 GBP I can have a very good Asus Motherboard with a 2.5 Gb Ethernet: ASUS ROG STRIX B550-F GAMING, AMD B550, AM4, DDR4, PCIe 4.0, SATA3, Dual M.2, CrossFire, 2.5GbE, USB 3.2 Gen2 A+C, ATX.
In order to have an Asus motherboard with a 2.5 Gb Ethernet for Intel I had to jump to a 254 GBP motherboard and Intel is still PCI 3.0. Actually there are PCI 10Gb NICs at 80 GBP so at some point I'll upgrade my home network from Gigabit to 10 Gb. That will come slowly, but if the new equipment I assemble has 2.5 Gb when I upgrade the main switches to 10 Gb, at least I'll be able to communicate at 2.5 Gb without ant additional change.
Also memory at 3200, speed that the AMD motherboard can provide, is more than affordable.
This new server will have 64 GB of RAM (Corsair DDR4 Vengeance PC4-25600 (3200)), as I plan to run VMs and use Volumes mounted via iSCSI and locally as block devices to improve my Software. I've bought a new UPS to keep it running in case power goes down. That's something that doesn't happen often in my city in Ireland, honestly, but I never forget that this happens in Barcelona two or three times per year, and that a high tension spike can burn your motherboard, drives, or electronics like the TV or the fridge. I've bought as well a new KVM Switch, a HDMI 4K and USB too one, so I don't have to have so many keyboards. My logitech M720 allowed me to use it with 3 computers, but still I want something more operational. The KVM I bought allow me to switch with a button or within a hotkey in the keyboard.
I bought a new Icy box fox handling 6 2.5 drives in just one bay of the tower, and a 850 Watt Corsair PSU that will be able to power the many drives I want at the same time.
More books coming
I started two new books:
Those can be purchased while I'm still working on them and get the updates that I'll be publishing and keeping a communication with me about doubts or improvements.
Halloween Software Offers
I saw some Halloween offers and I purchased Software licenses for Software I use.
Backup Guard is one of the products I registered:
I contribute a lot to Open Source, and many years ago before Open Source existed I was creating Freeware Software. But I think that good commercial Software deserves to be supported. Like everything in life, if they are doing a good work that is useful to me, why not giving them support?. It is also a way to make sure they will continue producing amazing Software. And in the other hand, myself, I create Software. Some times commercial Software, and I like to be paid, so I apply the same principle.